A Rich Tennis History

Built in 1952, the Bitsy Grant Tennis Center (BGTC) was once the headquarters of the Atlanta Lawn Tennis Association (ALTA), the country's largest grass roots tennis organization. Considered the showplace for tennis in the Southeast, the BGTC hosted ALTA's Atlanta Invitational tournament, drawing the great national players of the 1950s, 1960s and 1970s to Bitsy Grant. Today, BGTC is the largest public tennis facility in Atlanta with the only public clay courts available. It is currently managed by Universal Tennis Management (UTM).
In addition, the BGTC was the site of:
the 1955 U.S. Clay Court Championships;
the USTA National 40 Clay Championships (1983-1988);
the USTA National Father & Son Clay Court Championships;
the 2012 ATA Nationals;
as well as many other national and sectional tournaments.
Atlanta legends John Skogstad, Joe Becknell, Bailey Brown, and Hugh Thomson are also part of BGTC history. Skogstad and Ashe played one of the most memorable matches in Atlanta history here in the 1960s.
Some of the players who have competed at the BGTC include:
Arthur Ashe
Bobby Riggs
Chuck McKinley
Whitney Reed
Tut Bartzen
Vic Seixas
Barry McKay
Tony Traebert
Charles Pasarell
Cliff Richey
Clark Graebner
Andy Lloyd
Marty Reissen
Alan Morris
Ham Richardson
Bill Talbert
Gardner Mulloy
Frank Willet
Howard McCall
Russell Bobbitt
Ned Neely
Mike Belkin
Bobby Dodd
Robby Ginepri
Brian Vahaly
Edina Galovits
Donald Young
Bobby Reynolds
Horace Reid
Dan Magill
Zan Guerry
Richard Howell
John Skogstad
Crawford Henry
Armistead Neely
In addition to its distinguished tennis history, the BGTC won an architectural award for its clubhouse in 1956.
About Bryan "Bitsy" Grant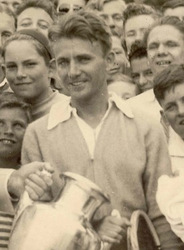 The Bitsy Grant Tennis Center (BGTC) is named after Bryan M. Grant, Jr. ("Bitsy"), a longtime Atlanta tennis legend who seemed an ever-present fixture on and off the courts here for much of his life. Like the Bobby Jones Golf Course, also located at Atlanta Memorial Park, the tennis center is named for an Atlanta sports legend. Nicknamed "Bitsy" because of his 5-foot, 4-inch frame, Bryan M. Grant, Jr. personified the "everyone can play" credo of the tennis center named in his honor. Grant won the U.S. Clay Court title three times, played on three U.S. Davis Cup teams, and won 19 national senior singles titles. Grant was inducted into the International Tennis Hall of Fame in 1972.
Read more about Bryan "Bitsy" Grant at the International Tennis Hall of Fame.